In 2018, I had read a grand total of 4 books. Last year, I set aside my usual vague resolution "to read more books." I even set aside my more specific lag goal "to read 24 books."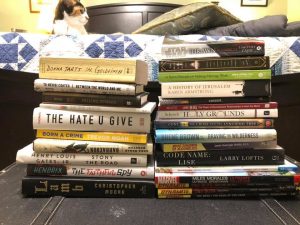 Instead, using LEAD's work in Faithful Metrics as a guide, I set a goal to read 30 minutes a day, most days. (Read more about that goal setting process here).
It went well. Like most resolutions, it started strong in January. But I was really able to keep up with it through Easter. Some health stuff in the summer really threw me off my game – but I finished the year strong again.
By the end of the year, I had read 41 books in 2019. Even though I fell out of the habit for part of the year, I was able to rack up more than ten times completed books of the previous year, and almost twice my book goal.
If you are looking to up your reading habit in 2020, I commend to you the same goal – half an hour each day. That little change makes a huge difference.
(I found the app Bookly to be helpful for tracking both my reading habits and the library of books that I read. Available for both iOS and Google)
What did I read this year? Check it out. Then connect with me on Facebook and let me know what you are excited about reading in 2020.
My 2019 Booklist
Biography
Faithful Spy (Dietrich Bonhoeffer), John Hendrix.

Oh wow. This is so good. Go buy multiple copies for your church library.

The Good Neighbor (Fred Rogers), Maxwell King
Code Name: Lise (Odette Sansom), Larry Loftis
Leadership
Braving the Wilderness, Brene Brown

I'll definitely be re-reading this one to digest further.

Dear Church, Lenny Duncan
Spirituality & Self-care
What is the Bible, Rob Bell
Bipolar Faith, Monica Coleman
The Cross and the Lynching Tree, James Cone

A must-read if you are doing theology in the American context.

Seven Principles for Making Marriage Work, John Gottman

I'm going to be using this in all my pre-marital and marriage work from here on out.

The Body Keeps the Score, Bessel Van der Kolk

This was hugely helpful for me both personally and professionally.

Hallelujah Anyway, Anne Lamott
Falling Upward, Richard Rohr
Adult Children of Alcoholics, Janet Woititz

From a pastoral care perspective, this helps make sense of so many behaviors and habits.

Love Big, Rozella White

Rozella's work is immensely helpful.
Fiction
Lamb, Christopher Moore
The Goldfinch, Donna Tart
The Hate U Give, Angie Thomas
Thrawn, Timothy Zahn
Thrawn: Alliances, Timothy Zahn
Culture and Society
Unselfie, Michele Borba

Another one I will re-read as I unpack it.

Between the World and Me, Ta-Nehisi Coates
The Ground on Which I Stand, Marti Corn

About the Tamina community in Montgomery County, Texas.

Consent, Jennifer Lang
Born a Crime, Trevor Noah
Holy Grounds, Timothy Schneck
History
Jerusalem, Karen Armstrong
Stony the Ground, Henry Louis Gates, Jr

This one opened my eyes to so much of American history that I had not seen before.

Barracoon, Zora Neale Hurston
Dead Wake, Erik Larson
The Devil in the White City, Erik Larson
In the Garden of Beasts, Erik Larson
Graphic Novels
Alters, vol 1
The Boys, vol 1-3
Eleanor & the Egret
Heroes in Crisis vol 1
Judas
Kingdom Come
Miles Morales