My friend and collaborator Peggy Hahn posted today about the books she read in 2018, and her 2019 reading list.
Peggy reads a LOT. 66 books last year. She always had, and it has always inspired me to want to read more. I mean, not enough to actually read more – but it sure does make me want to.
A Lag Goal
A few years ago, I was especially inspired by Peggy's reading list. So when January rolled around I set a goal. Not a undefined resolution "to read more" – but a concrete goal.
This is what I had been taught. Set concrete, measurable goals rather than ill-defined, unattainable resolutions.
So I set a goal: to read 24 books in that year.
It seemed to doable!
In January, I read two books. Great.
In February, I only read half a book. But to be fair, it was a short month.
March and April had Lent and Easter, and it's understandable that I didn't read much then.
By June, halfway through the year, I was so far behind in my goal, that I just stopped counting. By the end of the year, I probably read five or six books total.
I completely failed, right?
After all, I didn't reach my goal. So.
Or … maybe I had the wrong goal.
Or more specifically, the wrong sort of goal to have all by itself. I was measuring the wrong thing.
Leading Goals
"How many books I read this year" is a lag goal. By the time I am able to measure it (the end of the year), it is already done.
Even the monthly measurement of how many books I read each month is a lag goal – it helps a little bit in leading toward the goal of books per year, but not much.
Instead, this year I set a leading goal to go with the metric of how many book I read each month / year.
My goal is to read 30 minutes a day, more days than not (so, an average of at least four days a week).
How many minutes I read each day / week / month is a lead metric – changing that number will have a direct affect on how many books I read this year. 
Why Metrics Matters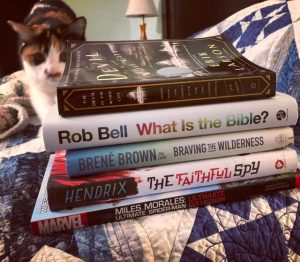 In ministry, most  of what we measure are lag metrics and goals.
They are things that – by the time we measure them – we cannot change them.
The recent work of LEAD has been centered around helping congregations and ministries to discern what are the right things to measure, and teaching how to set lead goals that will make a difference in that work.
I highly recommend to you the book Faithful Metrics, which deals with these questions. And if you are really interested in having measurements that make a difference in your ministry, consider inviting LEAD to come and do a Faithful Metrics seminar in your area.
And my 2019 reading? As of January 31 I have finished 7 books – more than I read in the whole year after setting my lag goal.