"Don't let your hearts be troubled."
John 14:1
"I feel like you wrote that with me in mind."
That's a comment preachers often get in response to sermons and devotions. People feel that we am writing to their experience – maybe even with them in mind as we write.
The 14th chapter of the Gospel of John is one of those texts for me.
"Don't let your hearts be troubled," says Jesus.
And this is the text I was studying when I get the call that my wife, was in a car accident (she's ok, btw – but it was a scary day).
Seriously, Jesus?
Anyone who thinks that God does not have a sense of humor needs to get to know God a little better.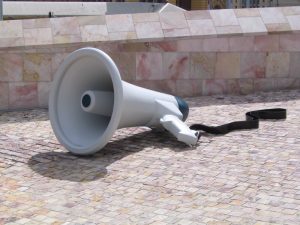 It felt – still feels today – like God was speaking directly to me, like the writer of John's Gospel had that very moment in mind.
When people say to me, "You were speaking right at me," I get it. Sermons, devotion, and Scripture often feel the same to me.
Like they are spoken right to me.
I recently listened to François Clemmons talk about the last days of taping on Mister Rogers neighborhood – where he was known to us as "Officer Clemmons."
At the end of the show, Rogers would always say, "You make every day a special day just by being you, and I like you just the way you are."
That day, Clemmons happened to make eye contact with Rogers at that moment and was particularly struck by the line.
"Fred, were you talking to me?"
"Yes, I have been talking to you for years," Rogers said, as Clemmons recalls. "But you heard me today."*
Sometimes it feels that God is especially speaking to us – through a sermon, a devotion, Scripture, or prayer.
The truth is God is always speaking to us, but we only hear it sometimes.
So yes. That was for you. Just for you.
That sermon.
That devotion.
That message.
It was for you.
But it isn't my message. It's not the preacher, the writer, the author, the friend.
It is the work of the Holy Spirit.
Opening our ears.
Opening our eyes.
So that maybe today will be the day that we hear.
Take time this week to really listen.
What is God saying to you?
Happy Easter! May you be joy in the world!
*The story of Fred Rogers and François Clemmons was recently told on NPR's Story Corp.