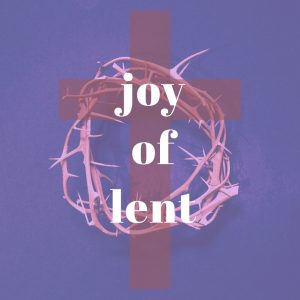 "Joy" is not the first thing most of think of when we think of the season of Lent
I used to joke that whenever I went to buy greeting cards I could never find a "Happy Lent" card (of course, one of my wonderful friends made me my own "Happy Lent" card and sent it to me).
For the most part, we think of Lent as somber. Serious. Music in minor keys.
Why is that?
The themes of Lent often call us to be aware of our shortcomings, to repent and change our lives, and to dig deeper into the practices of our faith. And so, in the imagination of the church, that has made Lent into a season of melancholy solemnity.
Lenten Practices
So let's look at those practices that are the foundation of the observance of Lent: repentance, prayer, self-denial (fasting), and generosity
Repentance
This is the one that really seems to send people into a Lenten funk. Who wants to dredge up all the things they have done wrong? Everything about that sounds depressing!
But have you ever actually done it? Have you ever sat down and laid your faults and flaws, your errors and mistakes, in the presence of God and another person?
Maybe you've never felt like you are carrying around the weight of your mistakes. Maybe you've never had that knot in your stomach from the thing you've done wrong that you try to hide from others.
But if you're like me, you have. The fact is, the more we hold that stuff in – the more we try and hide it from others and ourselves – the more those sins harm us.
However, when we let them go? The weight lifts. The knot untangles.
The act of confession – done with a trusted person and a full knowledge of God's mercy – is like casting off chains.
The practice of repentance and confession allows us to feel free of the burdens of our past – what a joy!
Prayer
Ok, but what about prayer?
There are definitely ways to spend the day that are more thrilling than sitting by yourself talking to God, right?
Let's suppose that there are.
And yet.
When I start my day with prayer, each of those exciting things becomes even more amazing.
Starting my day with prayer is like putting on new glasses – glasses that allow me to see God at work in the world wherever I go that day. Surely God was there all along, but prayer opens my eyes to that fact.
When I start the day with prayer, I see more beauty in the world – I am more likely to see God in the wide variety of people I meet.
And the opportunity to see more beauty and kindness every day? What a joy!
Generosity
If I have more money, I can do more things that give me joy. I can buy things to surround myself with, things that make me happy. I can go on trips.
And if I give that money away, I can do less of those things, right?
Have you ever watched someone's face light up when you give them a gift? Sometimes it is at Christmas, or a birthday, or an anniversary. There's that moment of joy, when you realize your gift has really touched the person's heart.
Here's a secret – we can experience that joy anytime. In fact, Lent calls us to experience it more and more often.
The invitation to generosity – to giving more often and more generously – is an invitation to experience the joy that comes from sharing with others and making a difference in the lives of others and our communities. What a joy!
Self-Denial
Alright then. But self-denial. Fasting. Surely there is nothing fun about that.
Self-denial looks lots of different ways for people during Lent. Some give up a class of food, others practice giving away some of their possessions, still others give up habits or hobbies that are a distraction.
We tend to think of the simple life as being hard and austere. And yet there is now a whole movement around the joy of having less (thanks Marie Kondo!).
As we cut things out of our lives, we are able to become more aware of all the blessings that we have. Cutting out a favorite food indulgence reminds us of how many food options we have and makes us aware of those who have less. Cutting out a time-consuming habit can help me to use my time doing things that are more productive and bring me joy (for example, prayer).
Self-denial is not about making ourselves miserable and unhappy. It is about re-focusing our attention and our hearts on the things that are most important in our lives and the world.
Yes, fasting for Lent is a great way to cut out the things that are draining my energy and distracting me from my connection with God and my neighbors. What a joy!
Invitation to the Joy of Lent
If we truly give our time, energy, and attention to the practices of Lent, we will discover a new sort of joy. In fact, starting these practices during Lent can often change our habits in lasting ways that carry over to the rest of the year.
So perhaps out of all the seasons of the church year, Lent is actually the most joyful.