In the brave new world where most of us are NOT worshiping in person and most of us ARE worshiping online, a new challenge is how we track attendance. Or, more broadly, what are the metrics for measuring our online worship?
While this is a new question many parts of the church, there are others that have been wrestling with this for quite some time. Here are some thoughts on some of the metrics I am using for our online ministry.
Be a Team Player
If you are a part of a denomination, you may be asked to provide certain metrics. In the past, that has looked like average weekend worship attendance (AWA) measured in a specific way to be fed into an annual report to the denomination. Now, you may be provided with a certain way of counting "online attendance" by your denomination.
(This is the latest iteration of such numbers requested by the denomination I serve).
Regardless of how helpful you find these metrics or methods, use them. Report them. It will help your colleagues to get a sense of how things are going around the judicatory. But that doesn't mean that you can't count other numbers.
Ignore the Raw Number
On many platforms there is a great "autoplay" feature, that causes a video to start playing as soon as it shows up in someone's news feed. Isn't that great?
And then each one of those people who pause for just a moment on your video get counted as "views." When clergy started streaming two months ago, many were ecstatic at "view" numbers that were 500% higher than their AWA.
But those people aren't real viewers. They are just passing by. Ignore that number.
It gives some sense of the exposure your video has, but not actual viewers and participants.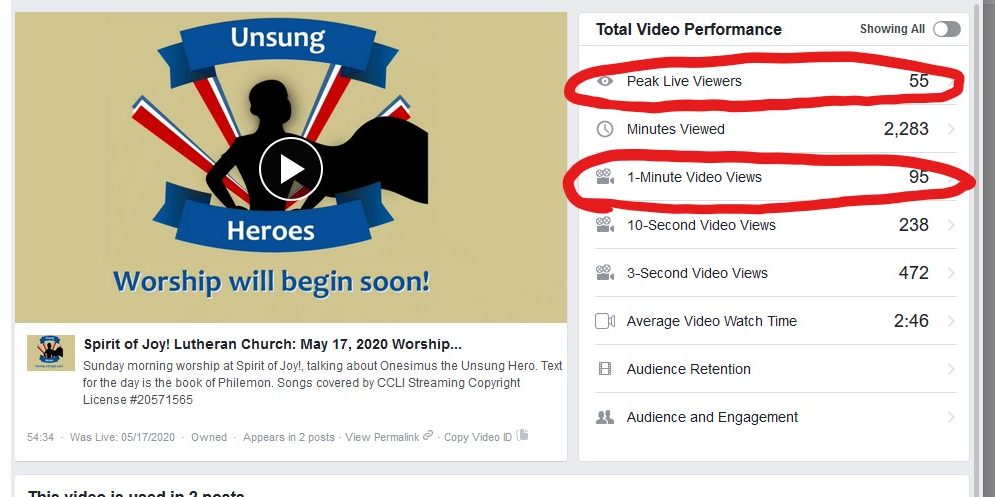 Focus on Live
There is just something about participating in the live event. The recorded experience just has a different feeling. The same is true of our online worship experiences.
Whatever platform you use, look for the "live viewers" option. Live viewers are the people who have set aside the time of worship to gather as a community for worship.
Often, there is more than one person behind each machine on a live view as families worship together. It depends on who you ask, but common multipliers fall between 1.5 and 2 (using 1.7 is a good way to split the difference).
For example, the 55 peak live viewers on the worship service above could be between 83 and 110. Where your congregation falls on that scale will depend on the demographics of your community. Are you a mostly older, retired congregation? Are you a community of young families with children home? Do you have more single-person families than families with multiple people in the home?
If you are worshiping in a Zoom meeting, you have the advantage of being able to see the people participating. Depending on the size of your congregation, you may be able to do a straight headcount for Zoom worship.
How Long, O Lord
I want to talk about time.
On most video platforms you will see some equivalent of "Total Minutes Viewed." This is also a less than helpful stat. It is going to vary based the length of your service from week to week.
But you do want to pay attention to the length of views!
3 second or less viewers? Those are the people we talked about above. Your video barely registered to them.
10 second viewers? Not a whole lot better. These people stuck their head in the door and checked things out, but they didn't decide to stay for worship.
Depending on the platform, you will get a number for people who viewed for either 60 or 90 seconds or longer. These are the people who came to worship.
I have found that the greatest increase in this number is on the day of worship – they catch the video either right after the livestream or later in the day. But I go back and pull a final number 7 days after worship. These viewers are much more likely than the live viewers to be just one person watching on a device.
Using the example above again. There were 55 devices watching live (90ish people), and then another 40 people who watched for more than a minute after the livestream (95 sixty secind viewers – the 55 live devices); for a total of about 130 people.
Engagement
Engagement is another great number. It is the number of times that someone chose to participate in the worship by liking or commenting. It is easiest to track just the raw number of engagements, to allow you to compare to what extent people are engaging with your content.
Use a Dashboard
A dashboard allows you to enter the basic stats from week to week, and create reports to give you a sense of how things are going. A dashboard also makes sure that you are consistently tracking the same information, and comparing apples to apples.
My dashboard is a simple excel spreadsheet, with the stats mentioned above plugged in every week. Nothing complicated at all.
I've posted my dashboard and a visualization below.
Alongside, not Instead
Even though we have not worshiped in person for eight weeks, digital metrics are not a replacement for in-person AWA numbers. Nor are they a number to add to or compare to your in-person worship attendance.
Digital worship metrics are used alongside in-person attendance numbers to give a fuller picture of the ministry.
We ought to have been tracking these numbers long before now, to be able to evaluate and measure our online ministry. But now that this pandemic has driven us to it, we should continue to track them after we return to in-person worship.
I keep two dashboards (excel files, because I'm fancy like that). One tracks our in-person AWA from week to week. The other tracks our digital metrics.
They measure different things, and different sorts of ministry – but they both matter alongside one another.