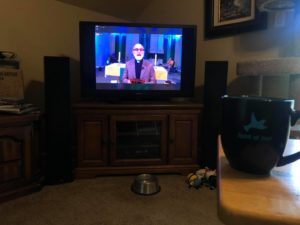 I took last Sunday off – my first Sunday off during the Coronavirus / COVID-19 pandemic. One of the many things I loved about being off on a Sunday was getting to worship from my living room – experiencing online worship from the other side of the camera.
Between that experience and my work with another congregation as a consultant, I realized that there is a hole in much of our online worship: Hospitality.
Many of us knew how to do hospitality in the pre-quarantine world. We worked on the signage in our buildings. We had greeters around the entrances to welcome people. The members of our community are friendly and made guests and newcomers feel welcomed.
But how can we show hospitality when our worship is online?
After ten years of teaching how to use digital tools to create community, these are my top tips.
4 Tips for Online Hospitality
1) Welcome from the Front
As much as the church is a priesthood of all believers, and the people leading worship can't do everything, there are some things that can only be done by the people leading worship.
The worship leader (whether pastor or layperson) sets the tone for the worship service – especially when there is not a physically present congregation. If you are the one leading worship:
Make sure to welcome online visitors and newcomers
Let those visitors know how to connect with your church
Encourage interaction with your streaming media – comments, sharing, etc
2) Online Greeters
At the church building, we often would assign people the task of greeting – being near the entrance and saying hello to everyone, being available to guide newcomers and answer any questions they might have.
Because there are no physical doors to be near, we haven't thought about greeters. But having church online means thinking about how to do adapt the things that we did in-person to our new way of worshiping.
As visitors and newcomers take the risk to say hello (responding to the invitation given above), who will reach out to them and welcome them to worship? Who will answer their questions about the service.
Consider assigning people to be online greeters. Of course, one of the great things about Spirit of Joy! has been how quickly people step up when they see a need. So if you are worshiping online, go ahead and be that greeter!
3) A Welcoming (Virtual) Congregation
Smiling faces. Waves across the sanctuary. The noise of conversation before and after worship.
All of these things add to the atmosphere of welcome in a congregation.
As a congregation moves from only in-person worship to only online worship, these intangible things can easily disappear.
As pastors, we need to encourage our members to take these behaviors to the new platform for worship (see number 1). As members, we need to remember to do this during worship.
The congregation I serve, like many others, uses Facebook for our online worship experience. Saying "Hello" to your friends in the comments is an easy way to begin opening things up – it normalizes using the comments to introduce yourself and greet one another, which makes it easier for a visitor to speak up.
What we are doing online is the same thing we were doing in-person.
Be friendly. Chat with one another. Introduce yourselves. Greet one another.
4) Engage in Worship
When we worship in-person, we do more than just sit there and watch the people up front.
We sing. We respond. We nod our heads. We smile and laugh. We cry. We shout "Amen."
When we move to online worship, it can be easy to fall out of "worshiping" and in to "observing worship."
What we are doing online is the same thing we were doing in-person.
Affirm the prayers offered by saying Amen! in the comments.
Invite others to worship by sharing the video on your personal profile.
Did you hear something that really spoke to you in a song or sermon? Type it out in the comments to underline how important it is.
When we as members of the church make use of the comments to engage in the livestream, we accomplish a number of great things:
It helps US to pay more attention and to move back from observing to worshiping
It helps more people to see the post and worship
It helps to guide visitors through the service and invites them to engage more actively
As we worship online together, our spirits will be more fully fed as we engage more in worship. And ultimately, that is the goal. To grow deeper in relationship with God and with one another. Take a step out, and become a more welcoming (online) church.