One way that I have enjoyed helping people dive deeper into Scripture is by inviting them to experience parts of the Bible that they may never have seen before. The weird and unusual Bible stories.
A few years ago, I drafted this five-week sermon series, The Bible's Believe It Or Not. Each week the "weird story" is paired with supporting texts to help draw out a theme.
This outline may be helpful to you, either as an individual devotion or as a jumping-off point for your own preaching.
As a preacher, these stories present both a challenge and an opportunity. The first read-through, they just seem weird. But spending time with them, praying over them, in conversation with the text, themes emerged for me that spoke to life today. Perhaps they will for you and your community too.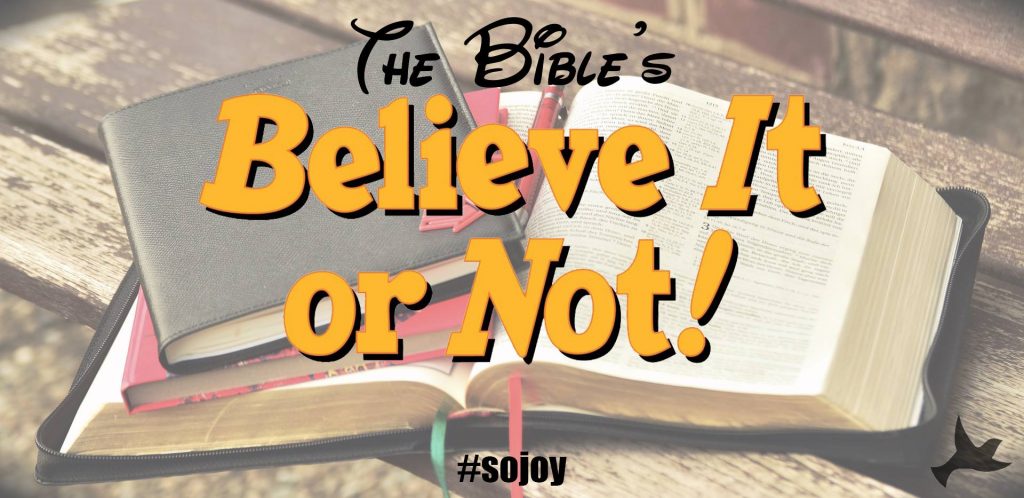 Week 1: Who Said That
Key idea: The truth of God is often proclaimed in the most unusual ways
Acts 8:1-3; Saul, later known as the Apostle Paul, was first a ferocious persecutor of the early Christian church
Exodus 4:10-12; Moses – called to preach to Pharoah, the most powerful man in the world – suffered a speech impediment
Numbers 22:20-35, 38; When he won't listen to God, the prophet Balaam receives God's message from the most unexpected source
Week 2: Elisha and the She-Bears
Key idea: The words we speak to others – even jokingly or in anger – have very real consequences
James 3:2-10; James warns about the dangers that come from the way we speak to and about one another
Ephesians 4:29-32; Paul offers advice about how we ought to think and speak about others
Matthew 5:21-24; In the sermon on the mount, Jesus re-interprets the commandment about murder
2 Kings 2:23-25; Mocked by the youth of Bethel, Elijah calls down a curse on them
Week 3: Mentioning Unmentionables
Key idea: Sometimes we are unable to see just how unclean we have become
Micah 6:6-8; The prophet Micah reminds the people what God wants from the people in response to the love they have been shown
Matthew 15:10-11, 15-20; In a disagreement with the Pharisees, Jesus points to the human heart as the source of corruption – not our external actions
Jeremiah 13:1-11; Jeremiah uses an unusual sermon illustration to teach about being unclean
Week 4: Bored to Death
Key idea: There is power in being bored – in prayerfully waiting, resting, and finding renewal
Exodus 20:1, 8-11; The third of the Ten Commandments: Remember the Sabbath day
Philippians 4:4-9; Paul advises the Philippians to find what is joyful and good in all things
Acts 20:7-12; The young man Eutychus is bored to death while Paul is preaching
Week 5: The Walking Dead
Key idea: In the power of the Word of God, nothing is impossible
Matthew 19:23-26; In talking about the difficulty of achieving their own salvation, the disciples discover the Gospel – that it depends on God, and not them
Matthew 27:51-54; During the death and resurrection of Jesus, other saints made appearances in Jerusalem
Ezekiel 37:1-14 The prophet Ezekiel preaches to an unusual audience, with an even more unusual response.
____________________
I would love to connect with you on my professional facebook page.
If you find these resources helpful for your ministry, please consider supporting the ministry of Spirit of Joy! Lutheran Church.
Want to grow in your ministry? I offer coaching for pastors and preachers. Schedule a FREE online consultation to see if coaching would be helpful for your minitry.