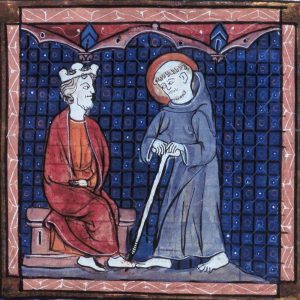 This year, Saint Patrick's Day (March 17) falls on a Sunday. What a great opportunity to learn more about this well-known exemplar of the faith!
Life of Patrick
Much of Patrick's life is obscured by history in a mix of legend, memory, and fact. In all likelihood, we can't separate the three – which is just as well. Together, they tell us not just the facts of his life but why his life mattered to those who kept his memory alive.
Patrick lived in the 400s AD. He was born in Roman occupied Britain – that's right, Saint Patrick wasn't actually Irish. He was born into a Christian family, but did not himself believe.
At the age of sixteen, Patrick was abducted by Irish pirates and taken as a slave. He was trafficked to Ireland, where he worked in slavery for six years. It was during this time that Patrick grew in a faith that sustained him through his captivity.
On escaping, Patrick returned to freedom in Britain. There, he had a vision that compelled him to return to the land of his captivity as a missionary.
The impact of Patrick's ministry in Ireland has been felt through the centuries. Despite being an outsider without the legal protections of citizenship, Patrick was able to lead thousands of people to choose the Christian faith over their traditional beliefs. Many of those baptized by Patrick included powerful and influential rulers and their families.
Tradition tells of Patrick using the prevalent local flora – the three leafed clover – as a teaching tool to help people understand the Trinity.
Remembering Patrick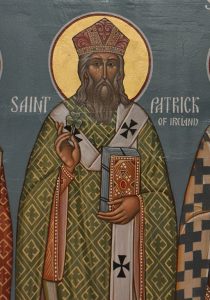 Of all the faithful men and women whom we remember on the calendar of the church, Patrick is one of the few whose commemoration has also become a secular holiday.
In the United States, Saint Patrick's Day parades began in the cities with large Irish populations. In a country where there was often both anti-Irish and anti-Catholic sentiment, parades on Saint Patrick's Day became an opportunity to express national and cultural pride. His role as a national symbol of Ireland has been and remains exceptionally important.
And yet, it was not his association with Irish identity that initially led to his importance. It was his faith. Patrick lived a life committed to his faith – so committed those who came after him remembered his story and passed it down through the generations.
It was in the midst of his struggles – kidnapping, being carted off to a foreign land, and enslavement – that Patrick discovered God's strength and comfort. He devoted his life to sharing his experience with others, helping them to come to know the God whom he loved.
Patrick's faith was immersive – it was not a sometimes faith. Responding to God's call, the work he undertook consumed the rest of his life. He did not relegate his faith to Sunday morning, or just devotional activities – it saturated through everything he did.
One of my favorite works attributed to Patrick is "Saint Patrick's Breastplate." In this powerful song, we invite Christ to be with us in each moment of the day – a reminder of our identity in Christ and a call to see the face of Jesus in all whom we meet.
Christ with me, Christ before me,
Christ behind me, Christ within me,
Christ beneath me, Christ above me,
Christ at my right, Christ at my left,
Christ where I lie down,
Christ where I sit, Christ where I rise,
Christ in the heart of everyone who thinks of me,
Christ in the mouth of everyone who speaks to me,
Christ in every eye that sees me,
Christ in every ear that hears me.
I bind to myself today
The strong virtue of an invocation of the Trinity,
I believe the Trinity in the Unity
The Creator of the Universe.