Many churches, including Spirit of Joy!, have begun hosting online Bible Studies during the social distancing taking place during the COVID-19 pandemic.
You may have seen these and thought to yourself, "That's a great idea, but it's not for me."
Allow me to give you some good news. You're wrong.
You are exactly the sort of person who would benefit from an online Bible study right now. If you'll give me just a moment of your time, I'll explain.
(1) You know less about the Bible than you think you do
You know less about the Bible than you think you do. Yes, really. You.
"How can you possibly know that?" you ask. It's a good question, dear reader.
I have been an ordained pastor, leading congregations for almost fourteen years. And it is true. I may not know you, and I may not know how much you understand about the Bible. But I know this:
Everyone with whom I have ever studied the Bible has been shocked to discover that they didn't know the Bible as well as they thought they did. Every. One.
It doesn't matter whether they were Sunday School teachers or newly baptized believers. They all knew less about the Bible than they thought they did.
And the same is true of you. Now is the perfect time to open the Bible and learn more!
(2) The tech is easier than you think it is
Learning a new technology is a big barrier for a lot of people when it comes to joining an online Bible Study.
I get it. Adding one more thing – one more tool, one more app, one more username and log in – is a pain.
But I guarantee, it is easier than you think it is.
At Spirit of Joy!, we are using Zoom for our weekly Bible studies. Connecting is as easy as clicking a link. Other congregations are using other platforms – but they are similarly easy.
Chances are if you are having trouble connecting, your pastor or Bible Study leader would be happy to help you (as long as it isn't right before the Bible Study begins).
Added bonus – once you have learned how to use this technology, it opens up other possibilities. You can use it to connect with family members, grandkids, neighbors, classmates, and more.
(3) You need the people in Bible Study
Perhaps you are feeling isolated right now. Maybe you love the time away from all the crowds.
It doesn't matter – either way, you need the people in Bible Study.
One of the fun things about Bible studies are the relationships that are formed. As we talk about our lives and our faith, we can't help but develop connects with one another.
Often, the participants in a Bible study all have different backgrounds. We are at different stages of life, have different life circumstances. Perhaps we would not have otherwise crossed paths in life.
But we share our faith and a desire to learn more from one another. And so we grow deep, meaningful relationships with a wide variety of people.
(4) You need to read the Bible with other people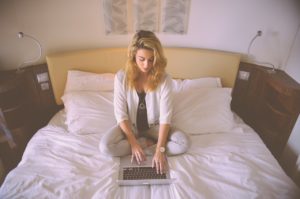 The Bible is a communal Scripture. It is not meant for us to read alone.
The Bible is meant to be the center of a conversation in a community of faith, a conversation about how we understand God and live our lives together.
Faith is a team sport – and reading Scripture is no exception.
We should read the Bible for ourselves – we should all have a Bible, in a translation that we can understand, that we can access. But we should not read the Bible by ourselves.
Reading the Bible in a community roots us in something more than ourselves. It gets us outside of our narrow perspectives and helps us to see the Scripture in new ways. Together, we are better and more insightful than the sum of our parts.
If we really want to grow in faith and in our understanding of the Bible, it has to be done with others.
(5) It's free
What can we say that about these days??
Chances are – whether you are showing up or not – your congregation is already offering online Bible studies. And if not, you can easily find someone who is.
It is already happening – and it literally costs you nothing to participate.
Your clergy have graduate degrees – masters degrees and doctorates. It costs them tens of thousands of dollars. And now they are giving away everything they know.
Added bonus – because it online you don't even have to take the time to drive to church.
Grab your favorite beverage. Sit down at your computer. And log on. It's as easy and comfortable as that.
---
Spirit of Joy! Lutheran Church has online Bible Studies every week. Our Men's Bible Study is on Wednesday nights, and our Women's Bible Study is on Thursday nights. For more information, sign up for our mailing list, or like and follow our facebook page.