"Let every living thing praise the Lord!"
Psalm 150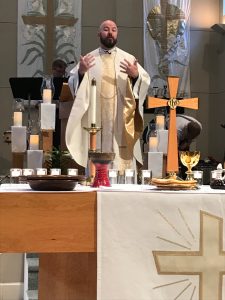 Wow. It was an celebration of Holy Week and Easter this year.
We gathered on Thursday, and we told the story of Jesus in the upper room. We heard Jesus one commandment to his friends: "Love one another."
We came back on Friday, and we witnessed the grief and sadness of the last day of Jesus' life – the betrayal, the trial, and the crucifixion. We heard that even in the darkest moments of our lives, God will not abandon us.
And then Sunday. From the time we gathered in darkness at the outdoor chapel until the children found the last of the Easter Eggs – we sang our Alleluia's, we laughed together, and we invited the new life of Jesus to also become a part of our lives.
There was a certain amount of relief when it was all over. There was a lot of planning, and preaching, and preparation that went into this weekend. It was joyful, it was awesome, and it was also exhausting.
And then it hit me.
It's not over.
It's just getting started.
Yes, the easter egg hunts are over.
Yes, the mid-week worship services are over.
Yes, the Easter lilies have been taken home.
But Easter is not over.
It's just getting started.
We have a wonderful, amazing celebration on Easter Day – and that is fantastic!
But we do a disservice to our faith when we let ourselves think that it ends with Easter day.
Easter is just getting started.
God is just getting started.
This coming Sunday we continue to talk about Easter – the story of Thomas takes place later in the same day.
But even more important than that; the work of Easter – God's work of renewing our faith, resurrecting our faith and the world – the resurrected Jesus making himself known to the world through our actions.
Today is Easter.
How will you show the world what God has done for you today?
Tomorrow is Easter.
How will you celebrate the gift of new life?
Today is Easter.
How will your life look different on this Easter day?
Tomorrow is Easter.
How will you spread the love the Jesus showed you?
Easter is not over.
We are just getting started!
Don't miss out on the amazing things God is doing in your life and in the world!
Sign up to get my weekly devotions delivered straight to your email.