Fathers Day is a day of joy for some, and a day of grief for others. For many, it lives in the complicated space where those two emotions meet. This prayer invites into the complexity of the day.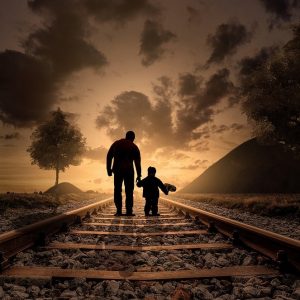 This Fathers Day, give thanks for loving wonderful fathers, who have given their children so many invaluable gifts.
Give thanks for new fathers, welcoming new life into the world.
Give thanks for those who choose their children, for adoptive and foster parents, who model the adoptive love of God.
Give thanks for uncles and godfathers and neighbors, who share paternal love with so many children; and for far too often overlooked stepfathers.
Give thanks for those who choose to remain without biological children, sharing love with the world in many ways.
Pray for the many fathers who have had to bear the unimaginable burden of burying a child, and those who have born the silent grief of stillbirth or miscarriage.
Pray for those who struggle with infertility, whose desire for a child is met with frustration.
Pray for the fathers of children with special needs and chronic illness, who know anxiety and exhaustion better than most.
Pray for those who were given abuse and heartbreak by the ones called to love them.
Pray for fathers who have made the difficult and loving decision to entrust a child to adoptive parents.
Pray for those whose fathers have died, who on this day celebrate and grieve their father in his absence.
Amen.
Looking for more? Listen to my weekly sermons and subscribe to the podcast to have them delivered directly to your phone.